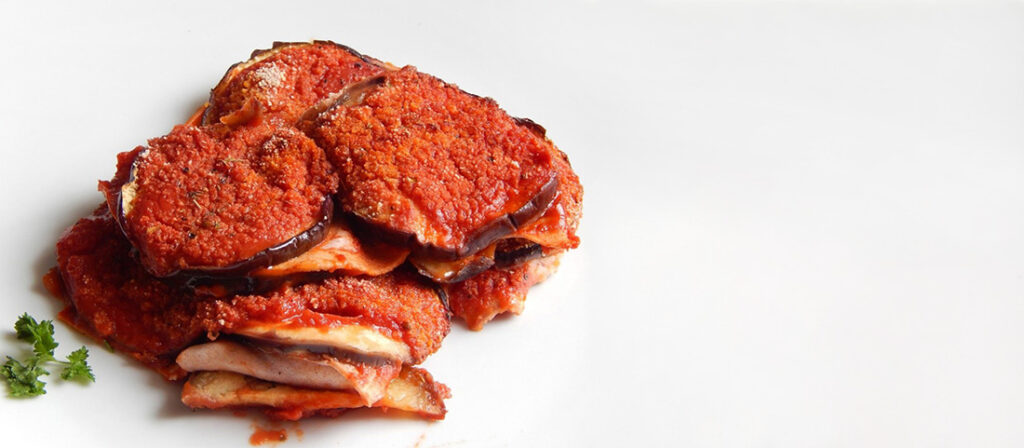 Parmigiana - 2/6 Recipes from All over the World
So many of our traditions and habits circulate around sharing a meal with others, which can be a strong catalyst for bonding with each other.
Since living in Malmö, which is one of the most multicultural cities in the world, I came up with the idea to ask my friends what is their favourite recipe from their home country. This results in an amazing selection of traditional recipes from ALL around the world. Today's recipes come from Italy.
My friend Gaia recommended ''Parmigiana'' as her favourite dish from her home country. Just by looking at the photo, it must be so delicious that I can't wait to make it!
Enjoy!
Black eggplants (1.5 kg) 

Tomato puree 6 cups (1.4 l) 

Mozzarella cheese (500 g) 

Parmigiano Reggiano DOP cheese (150 g) 

1 Yellow onion 

Extra virgin olive oil to taste 

Black pepper to taste 

Basil – several leaves 

Fine salt to taste 

Vegetable oil of your choice – for frying the eggplant 

Coarse salt 1 ¼ oz (35 g) – for purging the eggplant
To prepare the eggplant parmigiana, start by washing and drying the eggplants, slice the eggplants lengthwise with a vegetable slicer, or alternatively with a knife, to obtain slices about (4-5 mm) thick.


As you place the slices inside a colander, sprinkle them with coarse salt between the layers. Place a plate with a weight on it, to let the eggplants purge the excess water. Leave it like this for at least 1 hour.



In the meantime, make the sauce.

In a large saucepan pour a drizzle of extra virgin olive oil, add the chopped onion, let it brown for a couple of minutes. Then add the tomato puree and a little water, the salt and let it simmer for 45 minutes. When finished cooking do not forget to add the basil leaves


Rinse the eggplant slices and dry them with oil blotting paper. Heat plenty of vegetable oil. Fry a few slices at a time. Drain on absorbent paper.


Slice and cut the mozzarella cheese into strips.


Cover the bottom of a baking dish with a little sauce. Then make the first layer of eggplant slices. Put some black pepper, sprinkle with Parmesan cheese, pour some cubes of cheese, evenly. Repeat the same procedure until you finish the ingredients. On the last layer pour the remaining tomato puree.



Now it's time to bake your eggplant parmigiana in a hot oven at 400° F (200° C) for 40 minutes. Enjoy!
Credits to my friends Gaia for suggesting me the recipe and the following website for the info:

https://www.giallozafferano.com/recipes/parmigiana-eggplant-parmesan.html