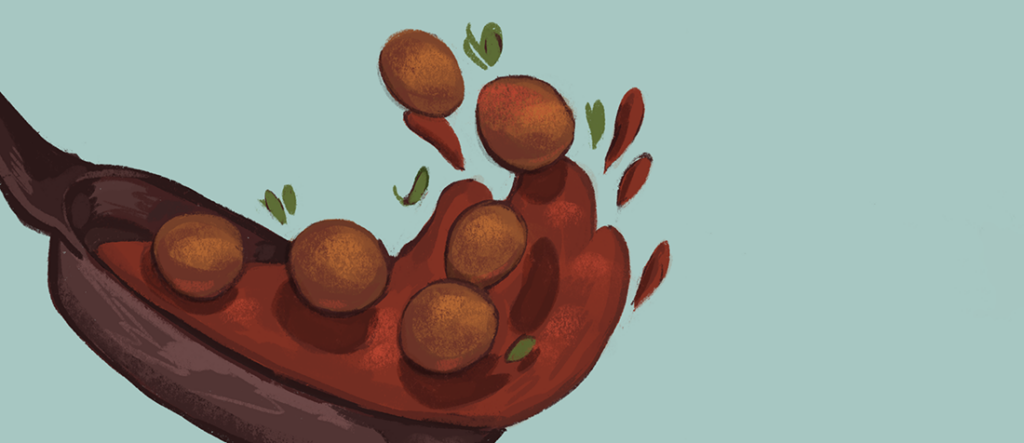 Illustration: Beatrice Toreborg
Minced meat and rice hedgehogs in gravy - Ежики из фарша с подливой
It is time to taste some Russian food! My friend Svetlana suggested this amazing meatball recipe, that is perfect for lunch and dinner. It is filling and delicious!
Minced meat, 500 g 

Potatoes, 1 pc. 

Basmati rice, 120 g 

Egg, 1 pc. 

Greens, 2 tbsp.
Spices 

Tomato, 3 pcs. 

Sweet pepper, 1 pc. 

Onion, 1 pc.
Prepare the hedgehog ingredients. Add grated potatoes to the mince. Add the egg, herbs, spices, about 1/2 tsp each. Minced meat must be kneaded very carefully. 


Pour rice for "hedgehogs" into a bowl. Pour in boiling water (it should cover the grits by three fingers) and leave at room temperature (at least 15 minutes). 


Peel the onion and chop finely. Heat vegetable oil in a frying pan. Add the onion and cook it until it is lightly brown (low heat). Stir occasionally. 


Cut sweet pepper into cubes or strips, removing seeds. Then add the prepared pepper to the pan with the lightly toasted onion. 


Wash tomatoes and remove their skin. Then, cut tomatoes in little pieces. If desired, you can use ready-made mashed tomatoes. 


Add tomatoes to vegetables. Be sure to taste the gravy, you may need to adjust the taste with sugar. Add salt, spices, pepper. Let the gravy simmer while you shape the hedgehogs. 


From the previously prepared minced meat we form "hedgehogs". You should end up with small balls, about the size of a table tennis ball. 


Put the rice that you soaked in boiling water into a fine sieve. Let the water drain. Transfer the rice to a plate. Roll the previously prepared minced meat balls in rice. 


Spread the "hedgehogs" in a pan on a vegetable sauce-gravy. Close the lid and simmer over low heat until tender, about 40 minutes. The ''hedgehogs'' will be ready when the rice is soft. 



Taste the vegetable gravy and, if necessary, add salt and pepper again. Serve the "hedgehogs" of minced meat on the table right away: they are very good hot. You can have a salad on the side.
In light of current circumstances, we hope that one day, food will reunite us all.