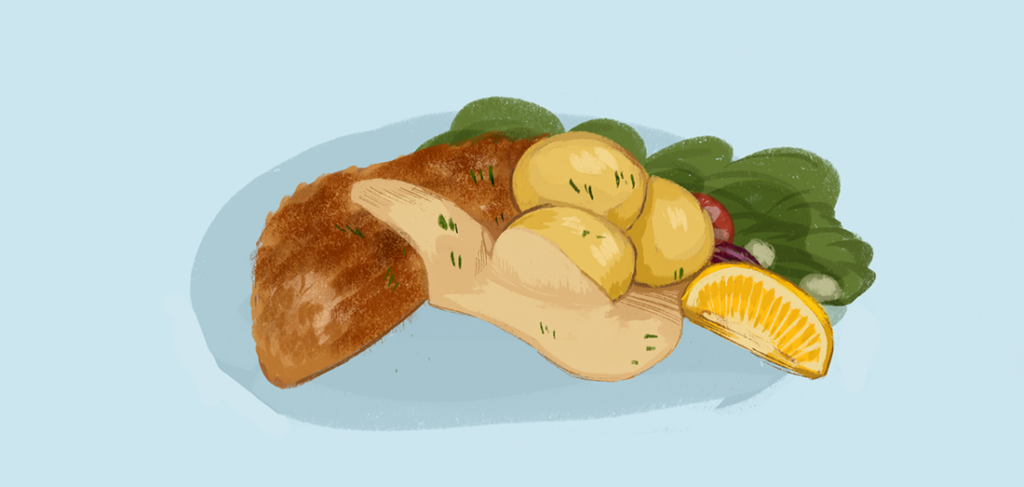 Illustration: Beatrice Toreborg
Sweden - Breaded plaice with mashed potatoes
It's time for Sweden! My beloved friend, Sofia, suggested this easy Swedish recipe. It is perfect for lunch or dinner. Enjoy!
8 plaice fillets

2 eggs

1 dl wheat flour

2 dl breadcrumbs

300 g butter

1 shallot

1 lemon

0.5 dl parsley, chopped
1 tablespoon fresh horseradish, grated

1 tomato

1 cucumber

Some lettuce

1 red onion

Feta cheese

800 g almond potatoes

salt (to taste)
Start by breading the plaice fillets in flour, then eggs and finally breadcrumbs. Store in the refrigerator until later. 


Peel and boil the almond potatoes in salted water.
 
Heat a frying pan and fry the plaice with butter, until it is golden brown on both sides.


Put 200 g of the butter in a saucepan over medium heat, until it is golden brown.


Finely chop the shallots. 


Finely grate the lemon peel with a grater. 


Mix shallots and lemon zest in the browned butter. 


Squeeze the juice from half a lemon and add grated horseradish. 


Taste with salt and add chopped parsley. 


Cut the cucumber, lettuce, onion, and tomato in slices. Drizzle a little olive oil over them and serve with some feta cheese. 


Use a potato press to make the mashed potatoes.



Put the plaice, the mashed potatoes and the salad in a plate and enjoy!
Credits to Sofia for suggesting this recipe!